BLUE WORLD CITY ISLAMABAD
Blue World City Islamabad Is A Mega Housing Project In Pakistan That Aims To Provide A World-Class Living Experience To Its Residents. Strategically Located Near Islamabad International Airport And The CPEC Route, It Is One Of The Most Sought-After Residential And Commercial Projects In The Country. The Project Boasts Top-Of-The-Line Infrastructure, Including Modern Transportation Facilities, State-Of-The-Art Security Systems, And An Uninterrupted Power Supply.
In Addition, Blue World City Offers A Range Of World-Class Amenities, Such As Community Centers, Sports Facilities, Parks, And Shopping Malls, To Cater To The Needs And Desires Of Modern Living. The Project Is Being Developed With The Latest Construction Technology, And Strict Quality Control Measures Are Being Followed To Ensure That The Highest Standards Of Living Are Met.
The Project Is Also Designed To Promote Eco-Friendly And Sustainable Living, With An Emphasis On Green Areas, Renewable Energy Sources, And Waste Management. Blue World City Is Set To Become A Hub Of Modern Living, Business, And Leisure In Pakistan, Offering An Unparalleled Experience Of Comfort, Convenience, And Luxury To Its Residents.
Blue World City Islamabad Location And Accessibility Make It A Highly Sought-After Real Estate Project In Pakistan. Located Near The Intersection Of The CPEC Route And The Proposed Rawalpindi Ring Road, The Project Enjoys A Prime Location That Connects It To Major Cities And Economic Zones.
The Project Is Easily Accessible Through Multiple Routes, Including The Lahore-Islamabad Motorway And The Islamabad International Airport. The Location Provides Convenient Access To A Variety Of Facilities, Including Schools, Hospitals, Shopping Centers, And Entertainment Venues.
Moreover, The Project Is Surrounded By Natural Beauty, Including The Picturesque Margalla Hills And The Serene Khanpur Lake. The Location Also Offers A Pollution-Free Environment And A Peaceful Lifestyle, Away From The Hustle And Bustle Of The City. Blue World City's Prime Location And Accessibility Make It An Attractive Option For Investors And Homeowners Alike, Seeking A Comfortable And Luxurious Living Experience In Pakistan.
Blue World City Islamabad Attractions
Water Theme Park
It is home to a breathtaking tourist destination, the Blue World Water Theme Park. This theme park, in collaboration with Guangzhou Haisan Amusement Technology & Co. Ltd. from China, hence is a truly magnificent feat of engineering and design. Situated on 70,000 square meters of rolling hills and natural contours, the Blue World Water Theme Park promises to deliver an unparalleled level of excitement and thrill to visitors. The combination of stunning scenery and top-notch attractions make the Blue World Water Theme Park a must-visit destination for anyone visiting the Blue World City.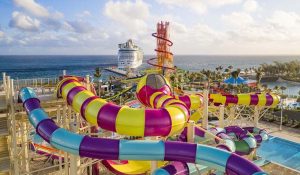 Corporate Office
The 300-foot-tall Burj Al Arab model in Blue World City is an awe-inspiring creation. Being carefully crafted by a talented group of architects, engineers, and constructors. This magnificent structure will serve as the corporate headquarters for the owners of Blue World City, the BGC-IGC Consortium. The Burj Al Arab features a host of incredible amenities. Furthermore, it includes a cantilevered sky-roof restaurant, a helipad, a rooftop tennis court, an Infinity pool, and a towering 119-foot high atrium. These unique offerings, paired with its exceptional height, make the Burj Al Arab a standout landmark in the Blue World City.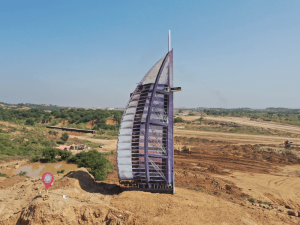 Blue Mosque
Blue World City proudly boasts a meticulously crafted replica of Turkey's iconic Blue Mosque. This remarkable structure not only mirrors the form of the original mosque but also its essence, offering visitors an unforgettable spiritual experience. The Blue Mosque in Blue World City is being constructed on 104 canals of land, with a covered area that is identical to that of the mosque in Istanbul. The tranquil surroundings and the attention to detail in the construction of the Blue Mosque in Blue World City evoke the same awe and profound sense of reverence that have made the original Blue Mosque a beloved and revered destination.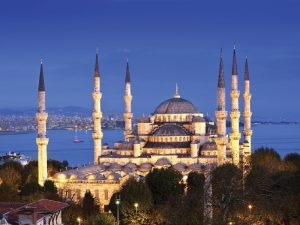 Horse Mascots
Blue World City's Horse Mascots, located near the bustling Central Avenue, will leave visitors in awe of their towering presence and captivating beauty, especially when illuminated at night. These magnificent sculptures are set to become the tallest in the world, reaching a staggering height of 125 feet from ground level. This awe-inspiring feat of engineering and design is deserving of a place in the esteemed Guinness Book of World Records, surpassing even the 30-meter tall Kelpies in Scotland which are a popular tourist attraction. The Horse Mascots in Blue World City is a must-see for anyone visiting the city and are sure to leave a lasting impression.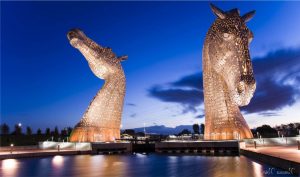 Rumi's Square
One of the central squares in Blue World City has been named in honor of the renowned Persian poet, philosopher, and saint, Maulana Rumi. The square features a stunning 70-foot-tall sculpture of Rumi in his famous whirling pose. Which is lit up at night and exudes a spiritual essence that is sure to captivate tourists. Rumi, who lived in the 13th century, is renowned for his unique style and approach to knowledge and wisdom. He influenced spans nations and continents. Devotees from all over the world flock to his shrine in Konya to pay homage to this great sage. By naming a square after Rumi and erecting this magnificent sculpture in Blue World City, hence  the city is paying tribute to his legacy and sharing his timeless wisdom with visitors from all over the world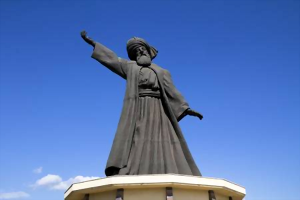 Night Safari & Zoo
Night Safari & Zoo brings a new level of excitement and adventure to the city with its innovative concept of a real night safari. For the first time in Pakistan, visitors will have the opportunity to observe a diverse range of nocturnal wildlife in a completely contained and protected atmosphere. The park features some of the most thrilling and fascinating animals, including lions, giraffes, zebras, crocodiles, hyenas, bears, llamas, tigers, deer, and many more.
In addition to the thrilling night safari, visitors can also take part in the equally spectacular day safari. They can get up close and personal with their favorite animals. With its unique and immersive setting, the Blue World City Night Safari & Zoo offers a one-of-a-kind experience for animal lovers and thrill-seekers alike. Whether you're a nature enthusiast or just looking for an exciting day out, this incredible attraction is a must-visit in Blue World City.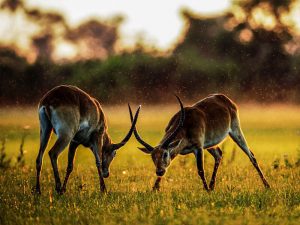 Blue World City stands as a dream destination for homebuyers, and Highland Properties is here to provide you with our expertise and guidance throughout your journey. Here's why Blue World City, paired with Highland Properties, is the perfect combination for your real estate aspirations:
Unparalleled Location:

Blue World City is strategically located near the twin cities of Islamabad and Rawalpindi, offering easy access to major highways, airports, and important landmarks. Its prime location ensures convenience and connectivity, making it an ideal choice for homebuyers seeking a vibrant and well-connected community.

World-Class Amenities:

Blue World City is designed to offer an exceptional living experience with its world-class amenities. From parks, recreational facilities, and fitness centers to shopping malls, schools, and healthcare facilities, every aspect of a modern lifestyle is catered to within the community. Highland Properties can help you explore and understand the full range of amenities available, ensuring that your lifestyle needs are met.

Investment Potential:

Blue World City is not only an excellent choice for homebuyers but also for investors seeking attractive returns. With ongoing development projects, planned infrastructure, and the vision of becoming an international-standard housing society, the investment potential in Blue World City is significant. Highland Properties can provide you with expert analysis, market insights, and investment advice to help you make informed decisions that align with your financial goals.

Highland Properties' Expertise:

When you partner with Highland Properties, you gain access to our extensive expertise and industry knowledge. Our experienced team of professionals understands the nuances of the real estate market and is well-versed in the intricacies of Blue World City. We can guide you through the entire process, from property selection and evaluation to negotiation and documentation, ensuring a smooth and successful transaction.

Personalized Service:

At Highland Properties, we believe in personalized service that revolves around your unique needs and preferences. We take the time to understand your requirements, budget, and lifestyle preferences, tailoring our recommendations and property options accordingly. Our goal is to ensure that you find your dream home in Blue World City, and we will go the extra mile to make it happen.

Trust and Transparency:

Trust and transparency are at the core of our values. Highland Properties is committed to providing honest and transparent dealings with our clients. We will provide you with accurate and up-to-date information about the properties in Blue World City, including pricing, legal aspects, and any other relevant details. You can trust us to guide you with integrity and professionalism throughout the process.

Exceptional Customer Service:

We place great emphasis on delivering exceptional customer service. Our team is dedicated to providing prompt and reliable assistance, addressing your queries, concerns, and needs at every step. We strive to make your experience with Highland Properties as smooth and enjoyable as possible, ensuring that you feel supported and well taken care of.
Blue World City offers a dream lifestyle, and with Highland Properties by your side, you can make it a reality. Our expertise, personalized service, and commitment to excellence make us the ideal partner for your real estate journey. Contact Highland Properties today and let us help you find your perfect home in Blue World City.