Blue World City Islamabad Attractions
Water Theme Park
It is home to a breathtaking tourist destination, the Blue World Water Theme Park. This theme park, in collaboration with Guangzhou Haisan Amusement Technology & Co. Ltd. from China, hence is a truly magnificent feat of engineering and design. Situated on 70,000 square meters of rolling hills and natural contours, the Blue World Water Theme Park promises to deliver an unparalleled level of excitement and thrill to visitors. The combination of stunning scenery and top-notch attractions make the Blue World Water Theme Park a must-visit destination for anyone visiting the Blue World City.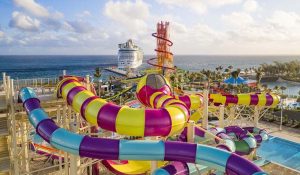 Corporate Office
The 300-foot-tall Burj Al Arab model in Blue World City is an awe-inspiring creation. Being carefully crafted by a talented group of architects, engineers, and constructors. This magnificent structure will serve as the corporate headquarters for the owners of Blue World City, the BGC-IGC Consortium. The Burj Al Arab features a host of incredible amenities. Furthermore, it includes a cantilevered sky-roof restaurant, a helipad, a rooftop tennis court, an Infinity pool, and a towering 119-foot high atrium. These unique offerings, paired with its exceptional height, make the Burj Al Arab a standout landmark in the Blue World City.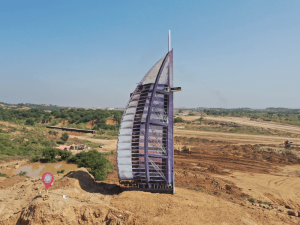 Blue Mosque
Blue World City proudly boasts a meticulously crafted replica of Turkey's iconic Blue Mosque. This remarkable structure not only mirrors the form of the original mosque but also its essence, offering visitors an unforgettable spiritual experience. The Blue Mosque in Blue World City is being constructed on 104 kanals of land, with a covered area that is identical to that of the mosque in Istanbul. The tranquil surroundings and the attention to detail in the construction of the Blue Mosque in Blue World City evoke the same awe and profound sense of reverence that have made the original Blue Mosque a beloved and revered destination.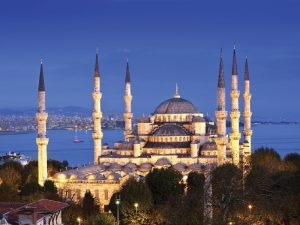 Horse Mascots
Blue World City's Horse Mascots, located near the bustling Central Avenue, will leave visitors in awe of their towering presence and captivating beauty, especially when illuminated at night. These magnificent sculptures are set to become the tallest in the world, reaching a staggering height of 125 feet from ground level. This awe-inspiring feat of engineering and design is deserving of a place in the esteemed Guinness Book of World Records, surpassing even the 30-meter tall Kelpies in Scotland which are a popular tourist attraction. The Horse Mascots in Blue World City are a must-see for anyone visiting the city and are sure to leave a lasting impression.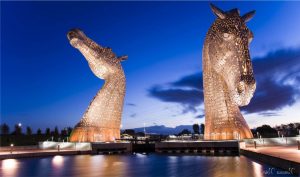 Rumi's Square
One of the central squares in Blue World City has been named in honor of the renowned Persian poet, philosopher, and saint, Maulana Rumi. The square features a stunning 70-foot-tall sculpture of Rumi in his famous whirling pose. Which is lit up at night and exudes a spiritual essence that is sure to captivate tourists. Rumi, who lived in the 13th century, is renowned for his unique style and approach to knowledge and wisdom. He influenced spans nations and continents. Devotees from all over the world flock to his shrine in Konya to pay homage to this great sage. By naming a square after Rumi and erecting this magnificent sculpture in Blue World City, hence  the city is paying tribute to his legacy and sharing his timeless wisdom with visitors from all over the world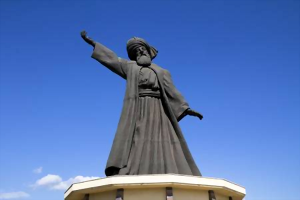 Night Safari & Zoo
Night Safari & Zoo brings a new level of excitement and adventure to the city with its innovative concept of a real night safari. For the first time in Pakistan, visitors will have the opportunity to observe a diverse range of nocturnal wildlife in a completely contained and protected atmosphere. The park features some of the most thrilling and fascinating animals, including lions, giraffes, zebras, crocodiles, hyenas, bears, llamas, tigers, deer, and many more.
In addition to the thrilling night safari, visitors can also take part in the equally spectacular day safari. They can get up close and personal with their favorite animals. With its unique and immersive setting, the Blue World City Night Safari & Zoo offers a one-of-a-kind experience for animal lovers and thrill-seekers alike. Whether you're a nature enthusiast or just looking for an exciting day out, this incredible attraction is a must-visit in Blue World City.